Durham Animal Feeds
Regular price
Sale price
£5.35
Unit price
per
Sale
Sold out
Description

Introducing our Chicken Filled Beef Trachea - a delectable treat that combines the natural goodness of beef trachea with a balanced chicken mince stuffing. This pack contains four small beef tracheae, each expertly filled with a meticulously balanced chicken mince blend.

Our Chicken Filled Beef Trachea is a wonderful option for pet owners seeking a natural and nutritious treat. The beef trachea itself is a rich source of natural chondroitin and glucosamine, promoting healthy joints and mobility. Combined with the balanced chicken mince stuffing, this treat provides a flavorful and wholesome snack that your pet will adore.

As with all our products, we prioritize quality and transparency. Our Chicken Filled Beef Trachea contains no unnecessary additives, preservatives, or artificial ingredients. We believe in offering your pet only the finest, most natural treats available.

Treat your pet to the wholesome goodness of our Chicken Filled Beef Trachea. With a delectable blend of beef trachea and balanced chicken mince, this treat is not only delicious but also offers a range of essential nutrients for your pet's overall health and well-being. Invest in their happiness and vitality with this exceptional treat.
Ingredients

The stuffing is a carefully crafted mixture, comprising three essential components to provide a well-rounded and nutritious treat for your pet. The chicken mince is formulated to include 75% muscle meat, ensuring a high protein content that supports your pet's muscle health and vitality. Additionally, it contains 15% bone, which is a vital source of calcium necessary for maintaining strong bones and teeth. To complete the blend, there is 10% offal, with 5% coming from nutrient-rich liver and 5% from spleen. This offal component is packed with essential nutrients that contribute to your pet's overall health and well-being.
Typical Analysis

The typical analysis of our Chicken Filled Beef Trachea underscores its impressive nutritional profile. With a protein content of 15%, these treats offer a substantial source of this vital nutrient that supports muscle development and overall bodily functions. Additionally, with 13% oil and 69% moisture, these treats strike a harmonious balance to provide a satisfying and enjoyable chewing experience for your pet.
Share
View full details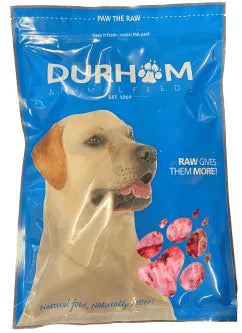 Shipping
We offer Local Delivery to multiple areas around our base, if you are interested in one of our delivery runs please check the Ordering and Delivery page to see if you are on one of our runs or contacts from the Contact Us page. No Frozen products can be shipped out by post, only by local delivery. For updates in our shop visit our Facebook Page.

If you would like to know more about us as a company, visit our page Our Story