Regular price
Sale price
£4.99
Unit price
per
Sale
Sold out
Description

Introducing our Head Skin Chews, a tantalizing and wholesome treat for your canine companion. Each package contains two generously-sized pieces, approximately 35cm in length, carefully air-dried to perfection. Encased in convenient re-sealable bags, these chews not only offer a delectable chewing experience but also provide a range of benefits for your pet's oral health and overall well-being.

Crafted from 100% Beef Skin with hair, our Head Skin Chews are a testament to the power of natural ingredients. The inclusion of hair adds an extra layer of texture, making this chew an engaging and enjoyable experience for your dog. This treat stands as a testament to our commitment to providing pets with nourishment that aligns perfectly with their natural dietary needs.

Not only are these chews a flavorful delight for your pet, but they also contribute to their dental health. As your dog chews, the natural texture of the Head Skin helps to remove plaque and tartar buildup, promoting healthy teeth and gums. This means that beyond being a tasty treat, our Head Skin Chews are a valuable addition to your pet's dental care routine.

Furthermore, the air-drying process employed in crafting these chews ensures that they are long-lasting, providing extended enjoyment for your furry friend. This also means they are free from artificial preservatives or additives, offering pure and unadulterated goodness with every chew.

Our ingredient list is refreshingly simple, reflecting our dedication to providing your pet with nothing but the best. You won't find any artificial additives, fillers, or preservatives here. Just pure, premium beef skin with hair, providing your pet with a treat that delivers on both taste and nutrition.

While specific percentages may not be available, you can be assured that our Head Skin Chews are packed with the natural goodness of beef skin. This includes a range of essential nutrients that contribute to your pet's overall health and well-being.

Treat your furry friend to the natural, flavorful goodness of our Head Skin Chews. With each chew, they'll experience a satisfying and engaging treat that not only tastes great but also supports their dental health. Say goodbye to artificial additives and opt for a treat that reflects the purity of nature.
Share
View full details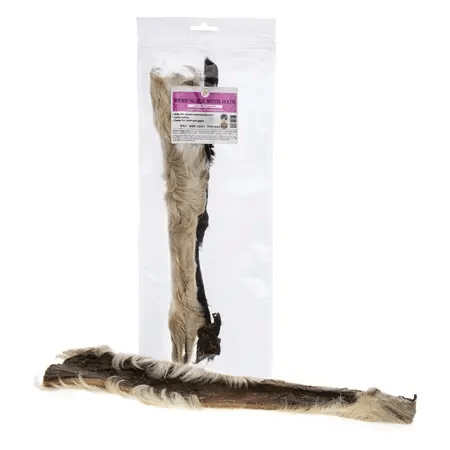 Shipping
We offer Local Delivery to multiple areas around our base, if you are interested in one of our delivery runs please check the Ordering and Delivery page to see if you are on one of our runs or contacts from the Contact Us page. No Frozen products can be shipped out by post, only by local delivery. For updates in our shop visit our Facebook Page.

If you would like to know more about us as a company, visit our page Our Story