Regular price
Sale price
£11.90
Unit price
per
Sale
Sold out
Share
Unlock the potent benefits of gamma-linolenic acid (GLA) effortlessly with our easy-to-administer liquid supplement. Boasting a neutral taste and odorless profile, this liquid formulation ensures a hassle-free experience for both you and your pet. Simply add it to your pet's food, administer it directly into their mouth, or even drop it onto their nose for a quick lick. It's a seamless addition to your pet's routine.
Designed with the unique needs of cats and small dogs in mind, this Evening Primrose Oil supplement is a powerhouse for combating scurfiness and dryness while promoting a lustrous coat. The GLA content works wonders in nurturing a healthy skin and coat condition, giving your pet a radiant and vibrant appearance.
Beyond its aesthetic benefits, Evening Primrose Oil is believed to play a pivotal role in maintaining normal hormonal balance. This equilibrium is vital, as it has a far-reaching impact on your pet's behavior and the quality of their coat. By incorporating this supplement into your pet's regimen, you're proactively supporting their overall well-being.
Crafted with utmost precision and care, our Evening Primrose Oil supplement stands as a testament to our commitment to your pet's health. We understand that a happy and healthy pet is a cherished member of your family, deserving nothing but the best. This supplement exemplifies our dedication to providing high-quality, effective solutions for your pet's unique needs.
Elevate your pet's wellness journey with our Evening Primrose Oil supplement. Whether your pet is facing specific skin and coat concerns or you simply want to provide them with an extra boost of support, this supplement is the perfect choice. Witness the transformation in your pet's vitality, demeanor, and coat quality as they thrive with the power of GLA.
Ingredients: Evening Primrose Oil (10% GLA)
Dosage: 1 drop per 2Kg bodyweight daily
Can be used during pregnancy?: Yes
Can be used during lactation?: Yes
Interactions: May be given in conjunction with any other medication
Product Finishing: Oil
Special Warnings: Bottles have a glass pipette dropper for easy administration but requires care in use to avoid breakage or injury
Suitable from: From 8 weeks
Always read the label
View full details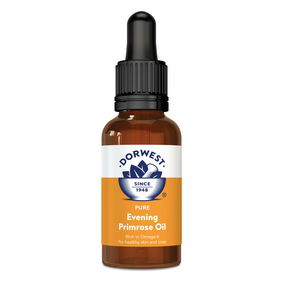 Shipping
We offer Local Delivery to multiple areas around our base, if you are interested in one of our delivery runs please check the Ordering and Delivery page to see if you are on one of our runs or contacts from the Contact Us page. No Frozen products can be shipped out by post, only by local delivery. For updates in our shop visit our Facebook Page.

If you would like to know more about us as a company, visit our page Our Story