Regular price
Sale price
£4.59
Unit price
per
Sale
Sold out
Description

Introducing FRESCO's Training Mini Bones with a unique twist - single protein treats infused with the goodness of fruits and vegetables. These delectable mini bones are designed to be the ultimate training treat for your furry companion. Packed with REAL meat and enriched with a blend of wholesome fruits and vegetables, they offer a rewarding experience that's as healthy as it is delicious.

Crafted with care, we combine these super ingredients into convenient, bite-sized bone-shaped pieces. Each piece undergoes a gentle air-drying process to preserve its moist consistency, ensuring a delectable mouthful in every bite. Our packs are designed with convenience in mind, featuring a zip-lock function to keep the treats fresh, making them the perfect on-the-go training companion.

In each pack, you'll find approximately 200 scrumptious pieces, bursting with the authentic flavor of REAL meat. These treats are suitable for dogs of all sizes, serving as a delightful reward for their efforts or simply as a gesture of love.

What sets FRESCO training snacks apart is our unwavering commitment to quality. We guarantee that our treats are crafted from fresh meat, free from additives like corn, wheat, soy, dyes, preservatives, or fillers. Every FRESCO training snack is meticulously produced in Germany, under the stringent IFS quality seal, ensuring that you're providing your pet with nothing but the best. Our locally sourced chicken meat is 100% traceable, giving you peace of mind about the origin of the ingredients

For those who seek transparency in nutrition, we provide a detailed typical analysis for each variant

Elevate your dog's training experience with FRESCO's Training Mini Bones - a blend of wholesome ingredients for a treat that's both nutritious and irresistibly tasty. Give your furry friend the reward they deserve, and watch them thrive!
Ingredients


Beef, Raspberry + Spinach: 90% beef, 3% raspberries, 3% spinach, 4% natural vegetable glycerin.
Horse, Cranberry + Pear: 90% horse, 3% cranberries, 3% pear, 4% vegetable glycerin.

Typical Analysis

Beef, Raspberry + Spinach:

Protein: 38%
Fat: 17%
Moisture: 16%
Ash: 5%
Fiber: 0.5%

Horse, Cranberry + Pear:

Protein: 41%
Crude Oils + Fats: 18%
Moisture: 8%
Crude Ash: 9%
Crude Fibers: 2%

Share
View full details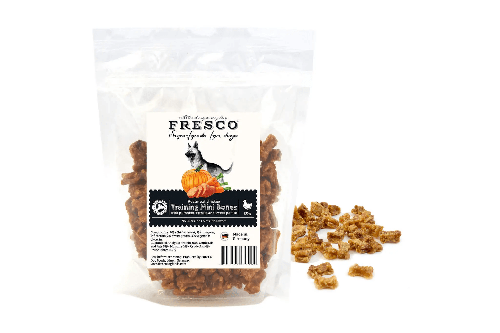 Shipping
We offer Local Delivery to multiple areas around our base, if you are interested in one of our delivery runs please check the Ordering and Delivery page to see if you are on one of our runs or contacts from the Contact Us page. No Frozen products can be shipped out by post, only by local delivery. For updates in our shop visit our Facebook Page.

If you would like to know more about us as a company, visit our page Our Story